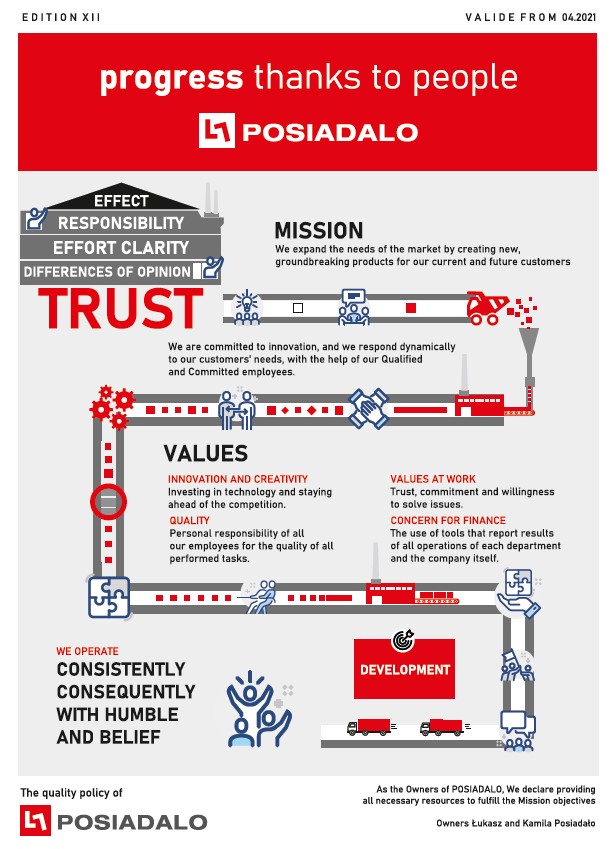 Our mission is to awaken the market needs, thanks to which we create new, breakthrough products for current and future customers. We act systematically, consistently, with humility and faith, focusing on DEVELOPMENT. We focus on INNOVATION, while we react dynamically to the needs of our clients, with the participation of Qualified and Committed Employees.
INNOVATION AND CREATIVITY,

so we invest in technologies and we are one step ahead of the competition.




QUALITY,

that is, the personal responsibility of each employee for the quality of the tasks performed.


VALUES AT WORK

thanks to responsibility for the entrusted activities and clarity in communication, and despite differences of opinion - we trust each other, engage in joint ventures and solve problems together.


CARE FOR FINANCES

we systematically launch tools reporting the current performance of individual departments and companies.
For the POSIADALO, the most important are:
PARTNERSHIP
In our business activities, we follow high ethical standards. We strive to ensure that the relations that bind us with contractors, clients, as well as relations between employees are based on honesty and the principles of coexistence and fair play competition. We build long-term relationships with clients based on trust, openness and kindness.
SAVING
Each employee is obliged to wisely and thoughtfully spend common money, optimize costs and care for the company's finances.
STABILITY
Thanks to the constant striving for perfection and constant contact with our clients, we keep track of their needs and meet their expectations, which makes us a stable business partner and a reliable employer.
INNOVATION
We invest in the development of employees, as well as the most modern equipment as well as technological and market research aimed at creating new, satisfactory solutions for the client. In addition, we constantly cooperate with scientific institutions, which allows us to implement innovations and new technologies.
AMBITION
Our employees strive to improve and achieve the best possible results at work within the limits of their qualifications, skills, knowledge and experience.
CARE FOR QUALITY
Our activities are aimed at meeting the client's expectations - we strive to provide him with maximum satisfaction with the products offered. In order to maintain and improve quality, we employ a professional team with the necessary knowledge and skills to perform their tasks. We focus on the personal responsibility of each employee for the quality of the tasks performed.
ACTIVE ATTITUDE
In order to keep up with the changing reality and meet market requirements, we focus on investing in human resources and searching for new technological solutions. We achieve this goal thanks to series of trainings, which, by improving the qualifications of employees, translate into team commitment to creating the highest quality products as well as searching for and implementing new technological proposals.
LOYALTY AND HONESTY
We follow this principle every day, acting in the defense and interest of our company. This principle results from the belief in the nobility of the company, a sense of bond with it, a sense of obligation towards it, the consequences of previous decisions or a given word.
ENVIRONMENTAL PROTECTION
Out of concern for nature, we use environmentally friendly technologies and do not exceed the applicable environmental protection standards.